Summary of Strong Road– Strong Road was added recently to the six-year streets plan and since had some recent concerning changes.
Adding Strong Road to the plan is the first step in a lengthy process to help find funding for the road. City staff would be assigned to the project then tasked to research and secure the needed funding as well as the design for a rebuild including traffic calming/pedestrian/bike safety mechanisms Strong Rd needs.
Earlier in the year city staff presented their plan update to the Planning Commission.  We discovered that Strong Road was missing from this presentation.
The Planning Commission approved the plan and next the six-year plan is heading to City Council to vote and approve it.
This is a critical time to have neighbors speak up and email, call, or comment in person on June 13, 3:30 Council Briefing session or the June 20th 6pm Council Business Meeting at City Hall to speak during public comment time on the proposed 6-year Street plan.
This is an important time to reach out to our elected officials advocating, sharing stories, pictures, and request this be added to the plan so designing can begin. 
cc
See the letter drafted on the Five Mile Prairie Neighborhood Council Website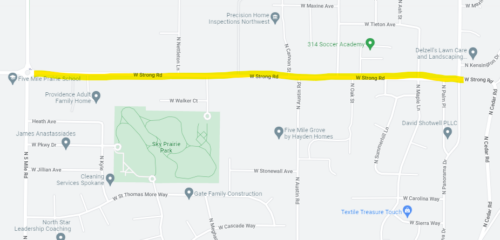 You're Invited
Five Mile Prairie Neighborhood Council Quarterly Meeting
June 23rd, 2022 6:30PM New Horizons Church
3122 W Lincoln Rd, Spokane, WA 99208
Welcome to the Five Mile Prairie Neighborhood Council website.
Agenda Posted Very Soon
Our Mission
The Five Mile Neighborhood Council's mission statement: To protect the character and environment of our combined city/county neighborhoods and provide communication and connection.
The Five Mile Prairie Neighborhood Council (FMPNC) is a resource that coordinates projects:
Advocates on behalf of the neighborhood on key topics such as traffic, public safety, development, pedestrian/bicycle safety and much mor
Neighborhood clean-up events
Community events
A lot has changed this past year and we are continuing to work together on upcoming key initiatives that impact the neighborhood!
We host a quarterly meeting. Everyone is encouraged to attend.
Join our mailing list
Keep in touch with us. If you would like to join our email list, please send us a request at 5mileprairiec@gmail.com.